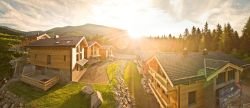 Chalets Apartments Centrum
Jasná - Centrum, Low Tatras
Our chalets and chalet suites offer a cosy mountain atmosphere, home comfort and breathtaking views of Mt. Chopok and the best Slovak ski pistes. more info
Best rate guarantee
at the hotel web only
Chalet service
Private wellness facility
Ski-in & Ski-out location
Breakfast included
Wi-Fi included
Parking free of charge
Smart deal for families and groups
Rooms available and final rates
Rates are changing as a result of various factors. Book your stay now and avoid a room being sold out or rate increased

Please wait while we process your request.
About the hotel
Chalets Jasná Collection **** are ideal for groups of 4 and more people. The private atmosphere of each mountain chalet and the great location next to the best Slovak ski pistes in two localities – Jasná Záhradky and Jasná Centrum guarantee unforgettable moments and adventures. Jasná Nízke Tatry is the biggest ski resort in the country that offers flawless conditions for winter sports as well as various activities, entertainment and active relaxation.
As we care for the comfort of our clients, we are introducing a new product this winter – Chalet Service
which guarantees all services that you would expect from a 4-star hotel and much more.
Among other things, the Chalet Service includes:
Catering
A private cook
Fondue evenings
Table reservation + transport to a restaurant for dinner
Ski rental while staying at the chalet
Ski and snowboard depot inside the chalets
Satisfaction of our clients comes first at Chalets Jasná Collection**** so our team is ready to meet your individual wishes and needs too.
Hotel amenities
Our chalets and chalet suites offer a cosy mountain atmosphere, home comfort and breathtaking views of Mt. Chopok and the best Slovak ski pistes as they are located in the popular year-round resort of Jasná. There is a car park next to each chalet and a ski depot on the ground floor of each building. Private in-house wellness centres with relaxation rooms and saunas guarantee the best mountain-style relaxation. Some chalets feature outdoor whirlpools that are ideal for having a rest after hiking or skiing.
Advantages of Chalets Collection****
A private atmosphere and comfortable mountain holidays at Chalet Collection**** with services of a 4* hotel
Various chalets to choose from – based on client´s wishes
Accommodation for more people (family, friends)
Fully-equipped suites, each with a kitchen and living room featuring a fireplace, located next to a ski piste
Chalet service for maximum comfort and satisfaction
Useful information